Mind, body, spirit — did one element or another first draw you to yoga? That is, were you seeking to settle your mind? Have greater physical flexibility? Explore your true, spiritual nature?
I knew very little about it and I was curious to know what yoga was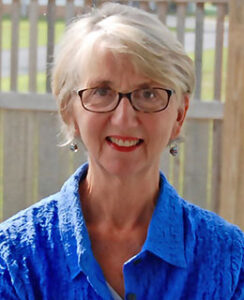 How about now: does yoga feed your mind or your body or your spirit more, or are those elements more in balance than when you started?
body originally, spirit more recently — I love the peacefulness
How long have you been practicing yoga?
since I was pregnant with my daughter, now in her 40s! — she's much better at yoga than I
How frequently do you practice yoga?
2-3 times per week
For you, what are the benefits of classes at a studio vs practicing yoga at home?
I love my yoga class for the direction and encouragement
Do you have a preferred yoga style?
not really, but the gentler the better
When you were starting out, what came easiest and what was more challenging?
getting the posture and holding it — but I still have trouble blocking out distractions
What have been the greatest benefits of yoga for you?
less body pain, greater flexibility
Apart from yoga, do you practice other techniques of mindfulness or meditation?
a friend recently told me about walking meditation and we do it together
Do you regularly do other forms of exercise?
I walk a lot and love my water aerobics classes
Outside of a yoga session, do you ever just strike a pose and stretch? If so, which pose(s) and where?
absolutely! — mostly stretches at my kitchen counter, but I've been known to strike a tree pose almost anywhere
You have a choice: take a yoga class (1) outdoors on a beautiful day, overlooking the ocean, or (2) in a well-designed, very comfortable minimalist indoor space. Which do you pick?
easy one — I choose outdoors, even if it's not a beautiful day — but circumstances mostly keep me indoors
—interview © Marshal Zeringue