Mind, body, spirit — did one element or another first draw you to yoga? That is, were you seeking to settle your mind? Have greater physical flexibility? Explore your true, spiritual nature?
definitely the body element, I loved how the asanas felt in my body — I'm not a very spiritual person and this aspect of the practice developed over time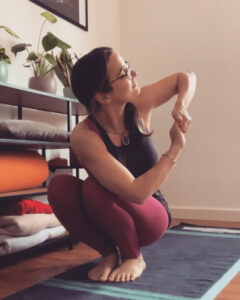 How about now: does yoga feed your mind or your body or your spirit more, or are those elements more in balance than when you started?
100% more in balance now, they have equal weight — yoga helped me quieten my anxious mind, and I've found my own definition of spirituality over the years
How long have you been practicing yoga?
10 years
How frequently do you practice yoga?
every single day, in one way or another — (sometimes it's 10 minutes of pranayama, sometimes it's 3 hours of asana)
How long did you practice yoga before you started teaching it?
2.5 years
Do you have a preferred yoga style?
therapeutic yoga — a blend of vinyasa, yin, pranayama, mobility and self-massage
When you were starting your yoga journey, what came easiest and what was more challenging?
I was naturally flexible, so that was the easy part — the hardest part was letting go of my need to be able to perform all of the postures
What have been the greatest benefits of yoga for you?
feeling more peaceful in my life in general — and a strong connection and appreciation for my body
Apart from yoga, do you practice other techniques of mindfulness or meditation?
I do a lot of pranayama (breathwork) and gratitude practice — I intentionally pause to appreciate the good moments in my life — highly recommend it, game changer
Do you regularly do other forms of exercise?
I lift weights and do pole dancing — I also love bouldering but don't practice often enough
You are French, teaching in Germany, and anyone who connects with you online knows your English is better than that of many native speakers. Do you find any difference in students of different nationalities?
thank you for the compliment! I have so many different nationalities in my students and I absolutely love that — I wish I had a funny answer, but to be honest, I don't see much difference between nationalities — the only thing that comes to mind is that Americans are generally a lot more enthusiastic about everything, haha!
You have a choice: lead a yoga class (1) outdoors on a beautiful day, overlooking the ocean, or (2) in a well-designed, very comfortable minimalist indoor space. Which do you pick?
indoor, every time — I was taught to always limit distractions as much as possible, and I live by this — (this would probably make my students laugh because my chinchilla is in my home studio and she loves to participate in my classes…)
—interview © Marshal Zeringue