Yoga is a holistic experience for many — mind, body, spirit — but did one element or another first draw you to the practice? That is, were you seeking to settle your mind? Have greater physical flexibility? Explore your true, spiritual nature?
for me, most definitely the body initially, I was trying to repair damage I had done from running to my back and knees — but the calming aspect came as an added bonus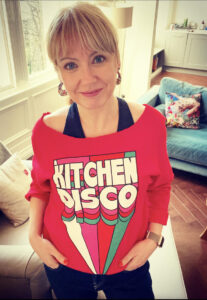 How about now: does yoga feed your mind or your body or your spirit more, or are those elements more in balance than when you started?
it's probably more in balance now – there has been a lot of change in my life in past two years, I have changed countries and jobs and it's been a positive but not stress free change and yoga gives me space to release the physical and mental stress of the transition and focus on the joy of the change
How long have you been practicing yoga?
on and off twenty years, it is like an old friend that comes back into my life whenever I need it
How frequently do you practice yoga?
at the moment I am on a roll of about two to three times a week as I am trying to wrestle my body back from the jagged teeth of menopause — regular yoga is helping me feel back in control of a body that often does not feel like my own just now and often feels out of my control
For you, what are the benefits of classes at a studio or with a group vs practicing yoga at home?
I am inherently lazy so I prefer a class as I will challenge myself more if I am in a structured class but sometimes on a sat morning there is nothing nicer than having a coffee, lighting a candle, rolling out the mat and having a quiet stretch
You're a psychology professor — is there much of a connection between your professional and scholarly interests and your yoga practice?
there isn't a direct link between my academic research and my yoga practice in that I don't research it as a topic but I am generally interested in well-being and human behaviour so there are parallels
When you were starting out, what came easiest and what was more challenging?
all of it was hard, I am inflexible, have rubbish balance and a very, very busy mind but I like a challenge and I like the feeling of seeing the change in these as you practice, I still find the busy mind the hardest
What have been the greatest benefits of yoga for you?
greater flexibility and less pain, it keeps me well enough to run which I love but as I get older also the feeling of calm
Apart from yoga, do you practice other techniques of mindfulness or meditation?
I need to be outside and need regular fixes of the sea — I find it so restorative being outside so I like to swim outdoors or run — that's my meditation
Do you regularly do other forms of exercise?
yes, as above, I swim and I run – which all makes me sound fitter than I am – both I do slowly
Outside of a yoga session, do you ever just strike a pose and stretch?
in the office, I sit at the computer a lot so I will often stretch out my back after long time seated
You have a choice: join a yoga class (1) outdoors on a beautiful day, overlooking the ocean, or (2) in a well-designed, very comfortable minimalist indoor space. Which do you pick?
always, always, always outdoors and even better if near water
—interview © Marshal Zeringue